Mid Night Racing Team
The Legendary street racing team gave great inspiration to the birth of *「Wangan Midnight」 by Michiharu Tachibana.
*A famous comic series sold over 17 million copies and was made into movies several times.
Mid Night, which was formed in 1982, has a strong impression of the Wangan Highway, but it also has an overwhelming presence on every street such as Tomei Highway, Metro Highway, Hakone Turn Pike, Daisan Keihin, and more. They still show a strong presence as they have created many Legendary records.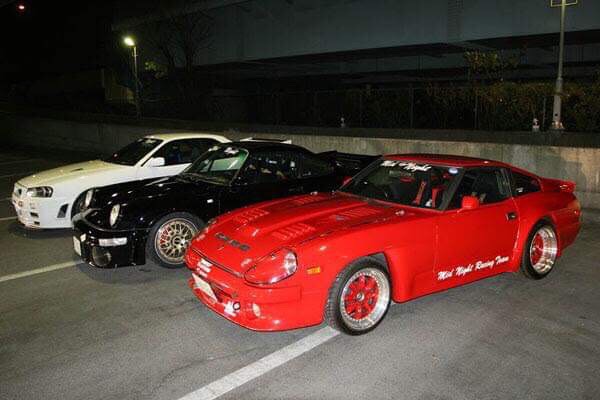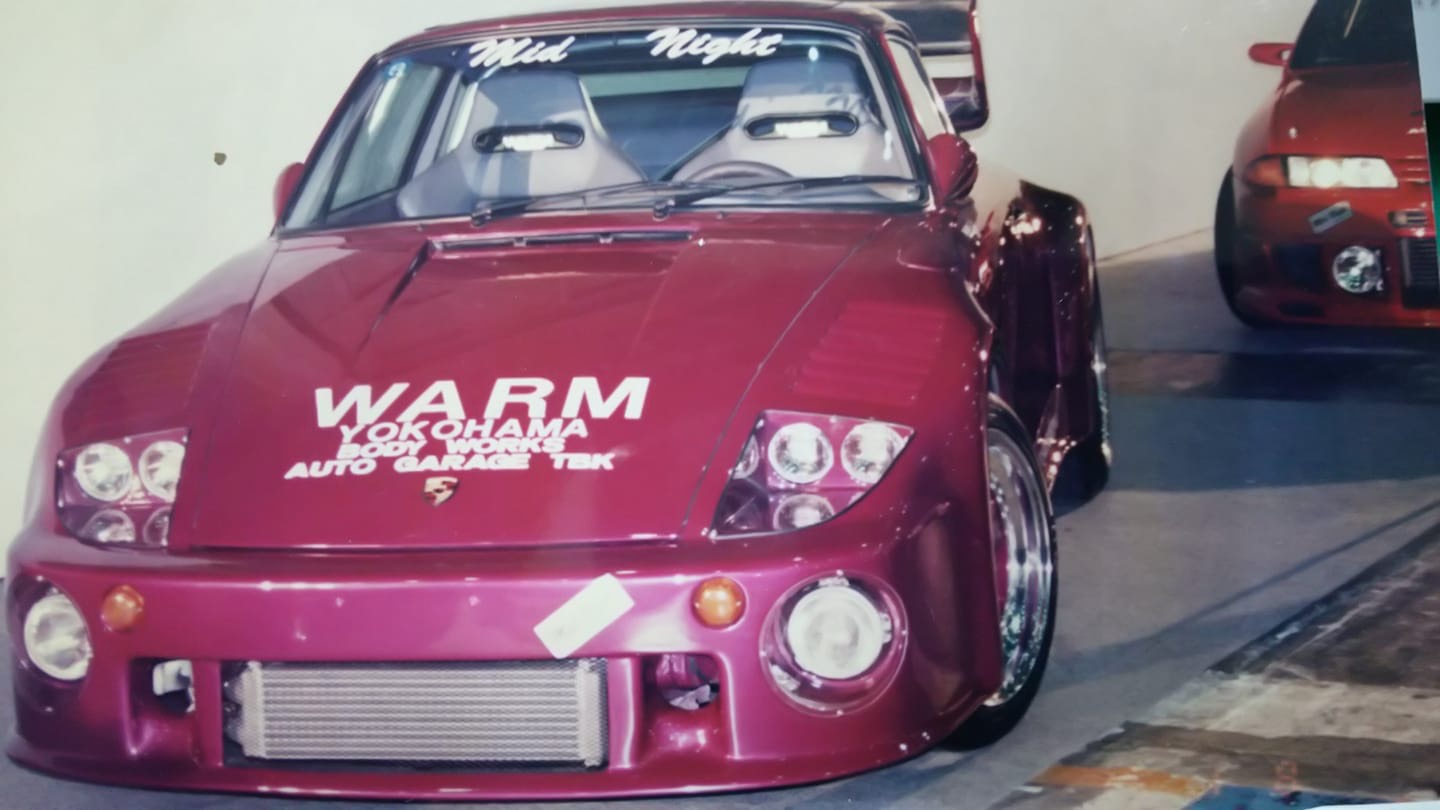 The team consists of Porsche, GT-R, Z, RX-7, Supra, Ferrari, Lamborghini, NSX, etc. It goes without saying that all the cars are specially modified with all the passion of the owners. As for the First Chairman's 911 Turbo, it was sent to the Porsche headquarters and to their Weissach Research Institute to be modified as a works-build machine applying their Gr. 4/5 934 and 935 race cars' technology. That makes the car very unique and the only one in the world "speciall" 930 turbo. The turbo spools loud like a Jet engine and leaves an impactful sound. Once you heard it, you cannot get it out of your head.
Also the Vice Chairman's ABR Hosoki Engineering 130Z is a "speciall" one with a strong aura. Its exterior, interior, and even the engine room were beautifully built with attention to every detail. The fact that it was hard to find a nice Japanese custom car in the 80s makes the car a very iconic one for Mid Night which resembled both beauty and speed. This 130Z has been passed on between members and is currently with the 3rd owner. It has never left the team. The exterior is complete with only minor updates done over time and its presence has not faded one bit.
Other vehicles include the invincible white Porsche 930 Turbo at Hakone Turn Pike, the TBK911 Turbo which set the fastest record of Japan's Torsion Bar Porsche, the Astonishing one-handed driven 964 Carrera, the BNR32 GT-R which has a record of Over 300km/h with stock turbos, the undefeated Blue RX-7 FD3S in the golden age of Wangan Street Racing …
As if idolizing those machines, lots of replicas showed up around various areas, and it showed how influential Mid Night was.
Besides these vehicles, there were quite a few Porsches and GT-Rs that exceeded 200mph at Yatabe Top Speed Challenge. 200mph is not surprising now but it was back then. Mid Night has always been at the forefront in the evolution of high-performance cars that archive the range of speed and stay on top of the game. It was rare for a team to have that amount of cars reach that speed range.
2020 marks the 38th anniversary of Mid Night. Its organization is vertically structured, and it was particularly strict during the early years until the 90s. The reason is that all the members from official ones to those who aim to join were aggressive, thinking they were the best and wanted to be the fastest, not wanting to lose. They were a group of people who were proud to be the best in the local area and who have a strong dislike to be defeated. Even among team members, serious life-threatening battles were frequently held. Driving pedal to the metal in the top gear and bumper to bumper at high speed is an action that can only be done if you understand and trust each other. Consisting of top players from each area, battling became the natural way to bring order and unity to the team.
For that matter, people who wanted to become a member of Mid Night were called *「Decchi」and had to go through a probation period before being accepted as an official member.
*apprenticeship
No matter how much they ran, if they didn't meet their vigorous standards in high-speed racing or spirit, they would not be accepted. Some were finally admitted after five years, while many knew their limits and gave up.
Regarding membership, it would take approval from all the executives to finally be accepted and be permitted to run the "Silver" sticker but if they would not withhold the standard, they must remove them. It was an executive order to make sure the member sticker above the muffler was the last view your opponent would see.
It was none other than the rigor of remaining the fastest group.
As an aside, the unique style of sticking stickers diagonally on the front and back of the vehicle is now commonplace, but its roots are none other than the midnight style.
In 2019, the first Chairman stepped down and a new chapter began under the 2nd generation. To foresee the future, the public road battle within the team has come to an end. As time passed on, lots of members made great success by advancing into the racing world, one continues to set the fastest records as a sports car developer for an auto manufacturer, one became an owner of a famous car shop, etc. The key to success may be due to their Mid Night spirit living on within them and withholding their objectives.